<![if !vml]>

<![endif]><![if !vml]>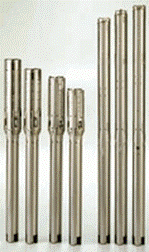 <![endif]><![if !vml]>

<![endif]>Grundfos SQFlex Pumps
30 to 300 Volts DC
90 to 240 Volts AC                                          HOME

For larger water pumping applications, Grundfos SQ Flex pumps are the answer.
Grundfos solar and wind pump kits start at about $2500.
The name SQ Flex underscores the system's flexibility: You can choose from seven different solar pumps, which can be backed-up by wind turbines, water reservoirs or diesel generators.
<![if !vml]>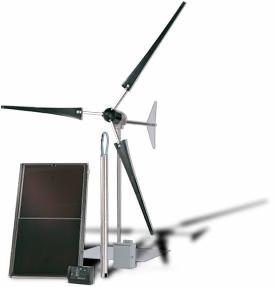 <![endif]>
The SQ Flex pump family contains three helical rotor pumps and four centrifugal pumps. The helical rotor pumps are used for high heads and low flows. The maximum depth is 120 meters (375 feet), and the maximum flow is 2.5 m3 per hour. The centrifugal pumps are best suited for wells with a maximum depth of 30 meters (100 feet). The biggest of Grundfos' centrifugal models can provide a flow up to 14 m3 per hour. The 3 SQF-2, 6 SQF-2, and the 11 SQF-2 are helical rotor type pumps. The others are centrifugal.  All of the pumps come with three phase motors that use permanent magnets instead of brushes and have a maximum power input of 900 W of either AC or DC voltage; for DC supply, a MPP-tracker for the integrated electronic unit can optimize the pump's working point. Maximum current is 7 Amps.

The simplest SQ Flex package contains the pump, solar panels and a switch box. If the solar power is insufficient to run the pump, or if you want to store energy for times when the sun does not shine, you can add a water reservoir, wind turbine or diesel generator. Whereas the SQFlex Combi package combines solar and wind energy, the SQFlex Wind system relies solely on wind energy to power the pump. Additional components include a control and communication unit and switch boxes.
The control and communication unit monitors the system and sounds an alarm in case of failures; the switch boxes close and open the voltage supply, slow down or stop the wind turbine, provide interfaces and transforms three-phase AC voltage into DC.

The pumps are designed for use with clean liquids, i.e. liquids that do not contain solid or long-fibred particles larger than a grain of sand.
Please contact Solar-Stream with your water pumping requirements and we will design a system to meet your needs. The SQFlex system is more than just a pump. It's a total concept tailored to individual requirements.  All we need to know is the location, the water table depth and how much water is needed, and we will be able to find the most efficient design and energy source for your system.
The following table gives an idea of performance. If smaller PV arrays are used, the amount of water will decrease proportionally.
| | | | | | | | | | | | |
| --- | --- | --- | --- | --- | --- | --- | --- | --- | --- | --- | --- |
| Model | Type |  Diam - inch | Feet | PSI | GPH | Watts | | Feet | PSI | GPH | Watts |
| 11 SQF-2 | ProgCavity Sub |                       3.0 | 30 | 13 | 660 | 260 | | 300 | 130 | 366 | 900 |
| 25 SQF-3 | Centrifugal Sub |                       4.0 | 8 | 3 | 1890 | 450 | | 45 | 19 | 1080 | 450 |
| 25 SQF-6 | Centrifugal Sub |                       4.0 | 30 | 13 | 1890 | 900 | | 90 | 39 | 1170 | 900 |
| 3 SQF-2 | ProgCavity Sub |                       3.0 | 30 | 13 | 144 | 140 | | 360 | 156 | 132 | 350 |
| 40 SQF-3 | Centrifugal Sub |                       4.0 | 6 | 3 | 3360 | 800 | | 30 | 13 | 1920 | 800 |
| 6 SQF-2 | ProgCavity Sub |                       3.0 | 30 | 13 | 288 | 225 | | 360 | 156 | 246 | 625 |
| 75 SQF-3 | Centrifugal Sub |                       4.0 | 6 | 3 | 4320 | 900 | | 45 | 19 | 2250 | 900 |
Solar-Stream
PO Box 48, Temple, NH 03084
(603) 878-0066 ~ www.solar-stream.com
Email: sales@solar-stream.com