Solar-Stream Box 48, Temple, NH 03458, USA. - (603) 878-0066  PUMPS        HOME
<![if !vml]>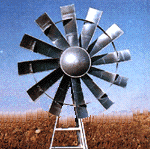 <![endif]>KOENDERS WINDMILL POND AERATORS & WATER PUMPS

The proven low-maintenance, low cost, highly effective method of maintaining water quality in your pond!
One Windmill can aerate a 2 acre pond.                 

Available with 12, 16 and 20 foot towers.
"On July 18, 2000 we installed our first Koenders Free Air Windmill on the shoreline of our 20 acre lake at 8850' altitude. This windmill worked with such efficiency that we installed another windmill the next year. The Windmills work year 'round and operate efficiently at low wind speed. They have exceeded our expectations; they are efficient and require very little maintenance."
Wade Lake Fishing Club, Colorado, USA.
Buy with confidence, knowing that ten time-tested design features increase performance, safety and wear-resistance:
<![if !supportLists]>· <![endif]><![if !vml]>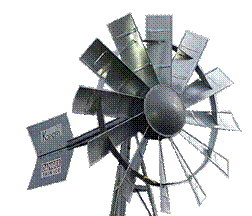 <![endif]>Crankshaft & Bearings 1" Turned, ground and polished steel crankshaft.
<![if !supportLists]>· <![endif]>Long lasting, heavy duty, durable sealed bearings.
<![if !supportLists]>· <![endif]>Streamlined, Large-Surface Blades engineered for most efficient operation in low and high wind speeds
<![if !supportLists]>· <![endif]>Large Diaphragm allows windmill to save energy but still produce maximum air volume and maximum longevity.
<![if !supportLists]>· <![endif]>1/2" Piston Stroke engineered for most efficient air production and maximum diaphragm life.
<![if !supportLists]>· <![endif]>Large Tail - the large surfaced tail area provides maximum control in all wind speeds and ensures efficient overall operation.
<![if !supportLists]>· <![endif]>Strong Tail Arms - Tail arm rigidity further ensures windmill control.
<![if !supportLists]>· <![endif]>Top Mounted Compressor - Top mounting and connected through a rigid pivot tube, provides smooth operation and mechanical longevity. Compressor top air valve assembly makes for very easy maintenance.
<![if !supportLists]>· <![endif]>Pivot Tube - Re-engineered to eliminate ice build up.
<![if !supportLists]>· <![endif]>Tower Design (12' - 16' - 20' Heights) - The strong, cross brace reinforcement design gives added strenght to any tower height. This design also discourages climbing of the tower.
Capacity Up to 1.5 CFM (cubic feet per min.)
Turbine Type Upwind
Rotor Diameter 65"
Swept Area 19.63 sq. ft.
Blade Design Proprietary
Transmission Direct drive
Stroke 0.5"
Overspeed Protection\ Automatic
<![if !vml]>

<![endif]>
The Koenders Windmill Aerator Kit comes complete with Windmill, Tower, Airstone Diffuser, and 100 feet of airline.  Three year manufacturers warranty.
Kit Prices
12 ft. Tower $930
16 ft. Tower $1055
20 ft. Tower $1095
Shipping is $95 anywhere in the continental US
Solar-Stream Box 48, Temple, NH 03458, USA. - (603) 878-0066  PUMPS        HOME
KOENDERS AIR POWERED WATER PUMPS
<![if !vml]>

<![endif]>
 LD8 Water Pump (Dia. 6-1/4" x 60" L) $395 + $25 s/h
This vertically submersible model is suitable for horizontal runs from water sources of at least 6' deep. PVC Casing, brass check valves and only 3 moving parts ensure low maintenance.
<![if !vml]>

<![endif]>SW16 Water Pump (Dia. 9" x 22" L) $495 + $25 s/h
Even in shallow water conditions, this horizontal pump has the ability to send water to where it is needed. It requires a minimum water depth of 24" for effective operation.
Both pumps deliver about 3 GPM at 10 foot lift and 1 GPM at their maximum capacity (40 foot) lift.
KOENDERS ELECTRIC AERATOR (EL2)
$650 + $50 s/h           Three year manufacturers warranty.
<![if !vml]>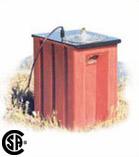 <![endif]>An Energy Efficient Alternative for Sheltered Water Supply.  When windmill aeration isn't possible, and your water source is in wooded, steep or rugged terrain, the Koenders Electric Aerator is the answer for water maintenance.
Operated with the same diaphragm as the windmill, the enclosed, electric compressor unit is run by an energy efficient, 1/4 hp electric motor that puts out up to 1.5 CFM (cubic feet of air per min.), with a maximum of 30 p.s.i. - more aeration power than needed for most ponds.  Complete kit with airstone diffuser, and 100 feet of airline.
EL2 Specifications:
Motor:       1/4 hp energy efficient 1725 rpm
Volt:            110 volt
Crankshaft:       1 "
Bearing:       1 " grease sealed ball bearing
Drive Type:       V-belt
Pressure:       up to 30 psi
Capacity:       up to 1.5 cfm
Weight:       86 lbs.
Dimensions:       19.5 " x 13.5" x 22" high
INDIVIDUAL/SPARE PARTS
Air Diffuser / Aeration Stone            $38
Foot Valve Assembly            $23
Pressure Gauge Assembly            $39
Air Line             $0.40 / ft.
Weighted air line 50 feet            $62
T-Valve Assembly (for 2 diffusers)            $54
Cross-Valve Assembly (for 3 diffusers)            $68
Repair Kit (diaphragm & 3 check valves)            $48
Optional Freeze Control Unit (windmill)            $85
Optional Freeze Control Unit (electric aerator)            $95
Electric Aerator Pump Only            $600
Windmill Assembly (no tower)            $750
Windmill Assembly (tower top & top leg section)            $770
12 to 16 ft. Leg Extension kit            $95
16 to 20 ft. Leg Extension kit            $130